Sweetie Candy Vigilante Issue #3 Cover K (Incentive Jeff Zornow Rock Album Homage Line Art Cover—MISFITS)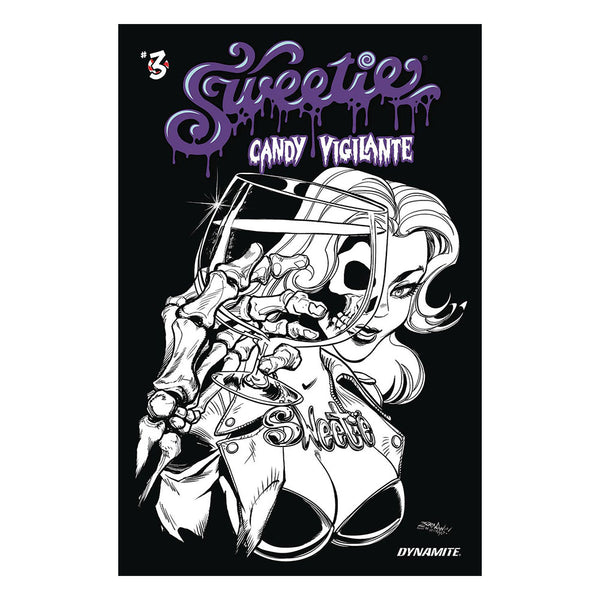 Sweetie Candy Vigilante Issue #3 Cover K (Incentive Jeff Zornow Rock Album Homage Line Art Cover—MISFITS)
Sweetie Candy Vigilante #3 Cover K (Incentive Jeff Zornow Rock Album Homage Line Art Cover
—

MISFITS)
Written by Suzanne Cafiero
Art by Jeff Zornow
Produced by John Cafiero
Published by Dynamite Comics
Release Date 12/14/2022  
NYC JUST GOT A WHOLE LOT SWEETER... THERE'S A NEW CANDY BOSS IN TOWN!
Sweetie Candy Vigilante #3 gives us our first glimpse into the surreal world that thrives beyond the walls of Sweetie's elusive Candy Vigilante factory headquarters (discretely located in the industrial outskirts of Brooklyn, NY). Now that Pixie has been chosen to join the sweet, secret society, she's introduced to mix masters (and highly skilled axe-throwing assassins) Hansel and Gretel! Yes, the epic witch killing duo are real, all grown up, and no longer eat stranger's houses. So please, no jokes about gingerbread. They're still trying to break the stigmatism...
Meanwhile, Candy Wolf spills the jelly beans on Sweetie's backstory and family lineage! Turns out her father is the "Candy Man"' himself: Zucker Cane, (of the New York landmark Cane's Sweet Shop). He trained Sweetie and factory home. schooled her with his magical secrets of confectionary wizardry.
Pushed to the limits by the mysterious disappearance of her parents, the gentrification of New York destroying "Mom and Pop" shops, and a fitness obsessed mayor declaring war on sugar -- actually outlawing candy, cake and ice cream in the process -- she's declared a war of her own on anyone who treads on her birthright to sweetness, and those who enjoy a little sugar in their lives. Possessing skills far beyond her father, she's been testing secret formulas on herself, and now... it's all GOOD! Sweetie said so, and she's the new Candy Boss in town! So make your life a whole lot sweeter with Sweetie Candy Vigilante #3: Candy Boss After all, tis the season!
Watch for Sweetie Candy Vigilante's return with issue #4 in February!
All comics are First Print editions, and ship bagged and boarded.